The 19-Twenty lads have been performing their high-energy sonic-party nationally, headlining sell-out shows and festivals in all states and territories. Constantly on the road or in the sky, they have toured seven times around Oz and performed gigs throughout Europe including Belgium, The Netherlands & Germany. Performing anywhere and everywhere, this straight-up 100% independent act have been blazing throughout Europe and Australia. 19-Twenty are: Kane Dennelly – Vox and guitars, Jeremy Berg – Drums, John Gwilliam – Double bass and BV's
Multi award winning Country Music Queen Gina Jeffreys paved the way for the future of women in Australian Country Music in the 90's, being the first female in the history of Aussie Country to achieve platinum record sales and sell out shows across the nation. After bursting on to the scene in 1991, when she won the iconic Starmaker, (previous winners –Keith Urban, Lee Kernaghan, James Blundell) Gina quickly became the face of Australian country music. In 1994, she opened for Johnny Cash on a National tour winning the hearts of Australia. Gina went on to successfully tour Australia and many places all over the world. Visiting the troupes in East Timor was a real highlight getting to sing alongside John Farnham and Kylie Minogue. Another unforgettable moment for Gina was travelling to China in 1998. Gina represented Australia in a spectacular New Years Eve concert that broadcast live to over a billion people featuring artists of all genres from all over the world. In 2003, Gina and husband, record producer Rod McCormack had their son Jacky and Gina chose to step out of the spotlight to raise him. "I really never wanted to miss a kiss goodnight or a football game." Now son Jacky has turned out just like his musician/producer dad and is playing guitar in Gina's band and other major artists. Almost 30 years after it all began, Gina is still wowing the crowds both on stage and behind the scenes, mentoring and penning chart topping songs for the next generation. Hit songs like Girls Night Out became the anthem for country girls all over Australia, and Gina had countless number 1 songs over her career.
Melbourne Blues artist Lloyd Spiegel has been touring the globe for 30 of his 40 years. The 14 time Australian Blues Award winner has one of the most interesting stories in music, having grown up on stage learning from, and touring with the founding fathers of modern Blues. The current show features the incredibly talented Lisa Baird on Trombone and long-time collaborator Tim Burnham on drums. Combined with Spiegel's guitar wizardry, powerful vocal performance and knack for storytelling, this trio with a twist delivers a truly unique entertainment experience that reinvents the blues and dispels the cliches associated with it. "A revelation, the consummate performer, an Oz Blues & Roots icon." – Rolling Stone
Their reputation as outstanding entertainers has led them to perform at many local and international festivals, including in New York, Scotland, France at the Festival Interceltique, the largest Celtic festival in the world many times, New Zealand, Sydney, Melbourne, Launceston Tasmania, National Celtic Festival, Port Fairy Folk Festival, Queenscliff Music Festival, Big Blues Day Out, Perth International Arts Festival, Brunswick Music Festival and many more. With a mixture of traditional Scottish and Irish music and modern self penned Celtic rock the band represents the best of new age folk music.
Long recognised as one of Australia's leading musicians and songwriters, Rod McCormack is also one of the most in-demand record producers,
having produced many award winning acts.  He has been responsible for many high selling and award winning albums and was named CMAA Producer of the year in 2004, 2008 and again in 2010. Rod has his own recording studio "The Music Cellar" on the NSW Central Coast, which has hosted the cream of Australia's musical talent, bringing to life numerous Gold and Platinum albums. As a songwriter, Rod has written over 30 number one country hits, along with theme songs and background music for a number of successful TV shows and documentary series, and has won numerous awards. He has over 400 titles currently recorded and released by artists here and overseas, including Wendy Matthews, The McClymonts, Lee Kernaghan, Gina Jeffreys, Adam Harvey, Beccy Cole, Paul Kelly and many others. As a musician Rod gained the reputation of one of Australia's finest, and is one of our most recorded artists, appearing on thousands of albums and soundtracks ranging from KD Lang to Jimmy Barnes, Guy Sebastian to Kasey Chambers, Shannon Noll to symphony orchestras etc. He has played and toured with many leading international artists such as Johnny Cash, Glen Campbell, Sherrie Austin, Jamie O'neal and was musical director for Trisha Yearwood, LeAnne Rimes, Pam Tillis, Jo Dee Messina and Tracey Lawrence on their Australian tours. In 2006 the CMAA awarded Rod their inaugural Musician Of The Year. Rod plays many instruments – guitar, banjo, mandolin, lap steel, piano, hammond and lots more and in 1985 toured the American bluegrass circuit, winning the Colorado guitar and banjo championship, the Tennessee guitar and banjo championship and the West Virginia banjo championship.
Return To The Sixties Folk Club (Rod McCormack, Khristian Mizzi & Greg Champion)
Three widely-known performers team up to relive the most loved folk songs of the Sixties-Seventies. Their 'Return To The Sixties Folk Club' show takes us on a journey back through the classics of the era: exploring everyone's affection for the works of Jim Croce, Cat Stevens, Don Mclean, Joni, Jackson Browne, Neil Young and of course Bob. Khristian Mizzi's voice, songwriting and impact is exploding on the acoustic music scene. Rod McCormack, one of Australia's elite musicians, has himself played a hundred festivals, dozens internationally. Greg Champion is part of the folk furniture at Port Fairy and all over.
Khristian and Greg will also be doing a couple of solo spots.
Erynn Marshall and Carl Jones are old-time musicians and inspired tunesmiths from Hillsville, Virginia. They are married – in life and music. They sing southern song-duets and play powerful fiddle, guitar, mandolin, banjo tunes. They have won many awards for their playing and performed in Canada, Europe, Australia and China. They have 17 recordings between them including 2021 double-release Old-Time Sweethearts (produced by Marshall/Eddy) featuring 12 old-time music couples from across the US. "Smokey and sweet – like the finest aged whiskey – that's what Carl and Erynn's singing and playing brings to brings to mind. A lovely touch in their playing and a beautiful melding of melancholy and cheerfulness which is exactly what I love to hear." – John Doyle
George Mann (US) is a songwriter's singer who is just as happy sharing stories and songs from the long history of folk music as singing his own songs. He's a walking jukebox with a strong focus on labour history and songs of struggle, a former union organizer, and activist based in New York (USA). George has produced albums featuring such folk music legends as Utah Phillips, Pete Seeger and Tom Paxton, and produced national tours of the US and Australia in honor of the Almanac Singers (2013) and Joe Hill (2015). George brings his experience as a union organizer and educator to his concerts– stories and songs about real events and the struggle for a better life. He also works with seniors and veterans' groups and they provide inspiration for many of his songs.
With 7 highly regarded albums and music featured in movies and documentaries such as The Emu Runner and John Pilger's Utopia, Nhunggabarra, Kooma man and international touring singer-songwriter Glenn Skuthorpe is a powerful lyricist and composer who gives voice to those whose stories must be heard. A compelling performer whose playing style is captivating, engaging audiences in the stories behind his journeys. Glenn has performed on stages big and small with some living legends in his career including Buffy Sainte-Marie, Steve Earle, Tex Perkins, Kev Carmody, Troy Cassar-Daley, Archie Roach, Rory McLeod, Michelle Shocked, Buddy Miller and Mary Gauthier. Following a string of highly successful tours including Port Fairy Folk Festival, Woodford, The Gulf Country Frontier Days Festival, Cygnet, Illawarra Folk Festival, Dorrigo Bluegrass Folk Festival, Saltwater Freshwater Festival, Byron Bay Blues Fest, Calgary and Edmonton Folk Festivals, Germany, Canada & the UK, prepare for an infusion of genres with vibes of urban street blues to open plains and wide-open skies.
"A power and presence that's beyond words" Colum Sands ARIA award winner and songbird ,choir leader and soundhealer Kavisha Mazzella original song's lyrical ingredients include humour, poetry, social justice and the spiritual. Combine this prowess with the voice of an angel and you have the experience of a Kavisha concert. Singing in English and Italian, she will take you on an uplifting boundary riding journey of well-crafted stories and songs ringing with echoes of Celtic, Fado and Gypsy influences that will strike a resounding chord within.
Twin sister singersongwriters Alanna and Alicia are excited to return to Maldon, launching their most recent release, 'Heart Song Listen,' produced with the support of a Creative Victoria Music Works grant in 2023. Alanna and Alicia have captivated audiences wherever they play, from the National to Port Fairy with their folky jazz roots songs and twin banter in concert. As identical twins, their rich, intuitive vocal blend, creates the magical close harmonies unique to siblings. Their songwriting, equal parts heart and humor, sparkles with an original intimate voice as they explore personal and world issues. Catch them sharing songs and stories from their much anticipated new album and from their stunning back catalogue, including the beautiful songs of John Beavis from 'Songs I'm Singing with Me' (2017), and original material from 'Twinlines' (2013), 'Two in a Book' (2010) and 'Funny She's so much Like Me' 2006.
Paul Wookey (Vic)
Paul Wookey is one of a very small handful of extremely talented musicians who were the key members of Melbourne's and Australia's acoustic (called 'Roots' or 'Americana' these days) music scene in the late 1970s, and one of the only ones who has stayed there full time through the four decades that have followed, and he is now singing and playing even better than he ever did, a true master of his craft. It is hard to put a label on Paul's music: there's Country, Blues, Folk, Bluegrass, etc.. Better perhaps to look at his influences and heroes, from Doc Watson to Eric Clapton, from Woody Guthrie to Bob Dylan, to Clarence White, The Byrds, The Beatles ….. . And also to look at some of the people who have enjoyed playing with him through the years ….. Aussies like Mike McClellan, Doug Ashdown, Ross Ryan, Tommy Emmanuel, and international stars like Country legends Vince Gill, Albert Lee, Mark O'Connor and Byron Berline, and blues greats including Jimmy Witherspoon and John Hammond. Not to mention the many international artists he has supported in concert, including all of the above as well as Jesse Winchester, Mick Jagger, Charlie Musselwhite, Mickey Newbury, John Renbourn, even Jasper Carrot, and a score more that have slipped from his memory. From his early days as a resident performer at the famous Frank Traynor's jazz and folk club in the 1970s to a debut album in 1981 that won him the 'Best New Talent' Golden Guitar at Tamworth's Australasian Country Music Awards Paul has continued travelling upwards and onwards with his music, adding fiddle and electric guitar to the playing that already had him marked as one of the very best flat-picking acoustic guitarists in Australia, and blooming relatively late as a notable songwriter, releasing two albums of original songs in recent years, leading to extensive airplay on ABC Radio National and inclusion on Ian McNamara's most recent Australia All Over compilation CD. Nowadays as well as playing solo and in occasional band configurations
JoJo Smith and Tracey Roberts are two of Australia's finest singer / songwriter / musicians with a wealth of performing and recording experience and several album releases each to their credit.  JoJo Smith (vocals, guitar, drums) is one of our greatest musical treasures, an inspirational performer with killer vocals, taking her audiences on a lyrical, musically diverse journey of blues, soul, funk, R&B, Latin and jazz.  Her own songs are a tour de force combined with a unique interpretation of a small, select group of covers. "I was blown away by Jo Jo. I have never seen anything like the show I saw at Mullum Music Fest." Ash Grunwald.
Tracey Roberts (vocals / keyboards) is a talented, accomplished and versatile singer-songwriter-pianist – an all-rounder musician, known for her passionate jazz-infused performances, dynamic vocals and well-constructed songs delivered with refreshing musical arrangements.  Her ability to add musical colours and vocal harmonies are second to none. "Such a brilliant musician. If she lived in the States she'd be famous." John Munro.
Together as a duo, they warmly engage their audiences with a selection of great songs delivered with dynamic vocals, gorgeous harmonies, sophisticated musicianship and a quirky sense of humour
2018 Newstead Award Winner and perennial festival favourite Liz Frencham is stepping back into centre stage supported by virtuoso instrumentalists Robbie Melville and Jacob Mc Guffie. She'll be playing new songs and old favourites from her long career. Come and be warmed by that cheeky grin and cradled by her luminous, generous presence. Think 'Jazz/folk bass diva' or 'Wine-soaked love child of James Taylor and Julie London'. From sultry sass to raw intimacy, with a little side order of irreverent humour. Always spontaneous and completely authentic.
Dynamic Victorian singer-songwriter Hannah Schmidli returns to Maldon along with her trademark golden telecaster and backing band in tow. For this 2018 Roddy Read Memorial Song Writing Award Winner, performing at Maldon is like a homecoming, having grown up attending, performing and being influenced by this wonderful festival. At the age of 22, Hannah already has an impressive list of festival and venue performances, including regular appearances at the Paris Cat in Melbourne and has written, recorded, co-produced and released two albums and an EP to date. Her gorgeous lyricism and deep audience connection make for stunning solo and full-band performances. Hannah has such a moving and powerful presence with her incredible voice, insightful masterful songwriting and a vulnerability she brings to the stage. As she weaves images through her music, she draws you in, young and old alike, taking everyone on a journey through song.
Pete is one of those storytellers who understands the delicate balance of humour and pathos – a performer who commands a room and deftly leads you through the twists and turns of a good joke and an even better folk song. In the great folk tradition of performers like Vin Garbutt, Pete spins a bloody good yarn. He disarms you with a joke, sucker-punches you in the emotional breadbasket, and then placates you with some fine singing and playing.          I came undone when I saw this generous, warm, and highly skilled performer stand tall and strong in his own spotlight.
Rhiz (Rhiannon McArthur) and The Sugarplums (Pete Daffy, Jordy Hickey and Mandy Keating) are a retro four-piece rockabilly/rock'n'roll/country band from Melbourne and Camperdown (VIC). By working authentic 50's-style feels into their original songs, Rhiz and The Sugarplums manage to revive an infectious genre of music from a long-gone era, capturing a rare nostalgic groove that's hard to resist. Winners of the 2023 Troubadour Foundation's 'Best New Act' Award, Rhiz & The Sugarplums will have you captivated with their harmony-filled songs one moment, and then have the entire room up and grooving to some old-school rock'n'roll the next. This versatile, uplifting and energetic band guarantee a good time and should not be missed!
Adelaide singer-songwriter Jen Lush is known for her dynamic, intimate and adventurous new music. With influences ranging from Feist, Iron & Wine, Anais Mitchell, these are tender folk songs flung into evocative, experimental rock infused soundscapes with storytelling at the centre. From her decade with folk band Cat Dog Bird to her debut solo album of poem songs 'The Night's Insomnia' Jen and her stellar band have appeared at festivals and venues throughout SA, Victoria, NSW, WA and Tasmania. In 2021 Jen released her album 'Let Loose The Beating Birds', a commentary on motherhood, suburban life and the broader environmental and political landscape of our current times. Reaching #11 on Three D's top 100+1 for 2021, and winner of the ARBA Roots Album of the Year (2021), 'LLTBB' has received generous airplay across Australia, releasing five singles with videos, and performing to sell-out crowds. Jen's new album of songs 'Hum of the Mettle' crafted from contemporary Australian poetry, commissioned for the Denmark Festival of Voice (WA) is due for release in August 2023, with the first single 'Lovers Parting, Dawn' coming out in April. "combining the world of poetry with experimental folk-rock soundscapes to devise what is an enchanting, otherworldly experience for listeners." Beat Magazine
Play It Martha is the original music project of Patrick Evans and Cora Browne. Returning triumphant to Maldon with their debut album, these two talented musicians are excited to share their original songs showcasing their curiosity about the world, shared love of harmony, well-crafted songs and the odd rollicking chorus. The vibe is playful, yet sincere, honouring the folk tradition with new interpretations of the classics while adding to the genre with fresh original songs. With two voices, guitars, driving fiddle, one purple bodhrán and years of shared musical adventures they have joined forces to realise their creative potential and are delighted to take you with them on an inspiring, original and engaging musical adventure.
Christina Green is a Melbourne-based singer-songwriter, composer and composer and multi-instrumentalist. She performs original songs in a contemporary folk idiom that draws on folk, folk-rock, blues, jazz and cabaret elements. Christina's songs have been described as 'snapshots, portraits, landscapes, stories and moments in time, pieces of mindfulness' – observational and lyrically engaging, they are delivered with a mix of guitar/ukulele with harmonica and percussion additions.
Songs from Mermaid Avenue lovingly interpret songs from the iconic collaboration between Billy Bragg and Wilco, which set new music to previously unheard lyrics by seminal folk icon Woody Guthrie and spawned the classics 'California Stars' and 'Way Over Yonder In The Minor Key'. The album celebrates 25 years in 2023. Featuring members of Rich Davies & The Low Road, along with Grammy-shortlisted singer-songwriter Michael Burrows. "I can highly recommend a night spent listening to these wonderful local musicians interpret some classic tunes from Mermaid Avenue. A heart-warming and rousing time was had, combined with spontaneous singalongs which added to the magic of an excellent evening." – Myles O'Neil-Shaw (PBS FM – 5 ft High & Rising) Craig Kelly (bass/mandolin/vocals); Michael Burrows (guitar/vocals); Stirling Gill-Chambers (fiddle/mandolin/vocals) & Damian Cafarella (guitar)
Shona Williams is a Glaswegian born traditional Celtic singer whose soaring vocals are partnered with Phil Lester, an accomplished guitarist/mandolin (and many an instrument in between) with a dynamic Bush balladeer voice and vast musical experience, just enhances this duo. Their partnership has wowed audiences with its authenticity and passionate delivery and is one not to be missed.
Adventure Before Dementia is a musical based on the songs of Louey Hesterman. It was written by Felix Meagher, Louey Hesterman and Cyril Moran over zoom during the lockdowns in Melbourne 2020 and 2021. The songs contain a variety of styles – folk, surf, South Sea Islands, blues, baroque, Aussie comedy and more conventional musical theatre styles. The writers make up the band Felix Meagher (keyboard), Cyril Moran (acoustic and electric guitars as well as ukulele) and Louey Hesterman (bass and acoustic guitar). The cast are all from Melbourne, and work in theatre and or band gigs, and met up through other Bushwahzee gigs and productions – The Man They Call the Banjo. and Barry Versus Kelly. The show is not about dementia, but rather about choices that people make approaching later life or retirement age. The title of the show comes from
Louey Hesterman's song of the same name, which features as the final item of the show. Featuring: Michael Young as Dr Julian *Albert" Horseman,; Cora Browne as Mumma,; Matt Hadgraft as Silver Fox,; Roisin O'Neill as The Money Lord,; Lucinda Barratt as Beryl, With musicians – Cyril Moran, Felix Meagher and Louey Hesterman.
Louey has one set for the launch of his new album, "Nothin' in my Pocket but a Song"
Katankin is the solo moniker of Melbourne indie-folk singer-songwriter and producer, Helen Catanchin. Born of Russian and Romanian migrant parents, and with a difficult, often harrowing family history, Katankin's music is nevertheless an ode and testament to love, faith, and ultimately, hope. With an achingly pure and expressive voice, and poetic writing rich with imagery, she unflinchingly plumbs the darkest depths of the human condition – wading through despair, loathing, fear, rage, and revenge, and then soaring to its greatest, sun-drenched heights. Katankin released her self-produced debut EP "The quiet shimmer of the world" in December 2022, which has already attracted extensive national radio airplay and is now available on vinyl, CD, and all digital platforms. Katankin is a 2023 Music Victoria Award Nominee for Best Folk Work.
Deeply rooted in traditional folk music, award-winning duo, The Raglins, bring a contemporary approach to traditional folk songs, reinterpreting Australian, English and Irish ballads and showcasing them with fresh and innovative melodies and arrangements. With guitar and stunning harmonised vocals, their storytelling and sublime harmonies will transport you. Having been brought together by a shared love of folk songs ten years ago in the Youth Awards at the National Folk Festival, and having lived and breathed traditional songs in Dublin, Glasgow and Belfast, The Raglins have toured and performed at almost every folk festival in Australia, including Woodford, the National Folk Festival, Fairbridge Folk Festival, the National Celtic Festival, Cygnet Folk Festival and Illawarra Folk Festival, amongst others. The Raglins celebrated their tenth anniversary at the National Folk Festival and the National Celtic Festival in 2021.
Valley Road is a folk duo of two singer-songwriter friends from Central Victoria, Rebecca Jane Howell & Marty McKenna. Their contrasting voices combine to create a kind of magic,
apparent from the very first time they sang in harmony together, and honed in the decade since. Their songs are evocative and honest and their performances are captivating, with intricate guitar playing and heart-rending vocals. Valley Road's stories and sounds bring an Australian perspective to their diverse folk influences. The pair won a Troubadour Foundation Award after enchanting the crowd at the 2022 Burke and Wills Folk Festival, and have recently recorded their first album together on the Central Coast of NSW with acclaimed producer Rod McCormack (to be released in early 2023).
Riley Catherall is a Singer-Songwriter based in Melbourne whose patient lyricism has not gone unnoticed. Riley has built a credible status as a one of the country's most promising songwriters through his poetic sincerity and alluring live shows.
Karlo Arcinue is a Melbourne based singer-songwriter influenced by 70s folk artists such as James Taylor and Jim Croce. He started his solo music project during the lockdowns, and unexpectedly grew a large global social media following (FB) through posting performance videos of his original songs. As soon as the lockdowns ended, he has been gigging around live music venues in Melbourne and steadily growing a local fanbase
Cate Taylor is an award-winning, indie-folk singer songwriter from Melbourne. Her music is described as rich, natural and grounded in heartfelt, spacious lyrics with a performance style that is authentic and engaging. Cate released her debut album, Red Dirt in 2020 and is returning to the studio for album number 2 in 2023. "Cate Taylor presents honest, reflective songs that paint a picture of our place in the environment. A record for any season and mood, evident during a live to air appearance for Music Matters, on 3CR Community Radio, February 2020." Joe Malignaggi 3CR Radio. "Cate's work is an important contribution to the folk music output of Melbourne. Her songs always come from the heart and contain important messages for the themes of our time." – Jason Bunn, violin/viola, Orchestra Victoria. "Red Dirt is an impressive album in myriad ways. Everything from the drums to the strings is organic, warm and rich… brimming with human emotion. 4 stars" – Divide and Conquer
Occupying her own position at the intersection of alt-country and folk, Lucy Parle is a melodic singer songwriter who plays guitar and piano. Increasingly referred to as "the Australian Taylor Swift", Lucy's honest and confessional lyrics will appeal as much to fans of Kacey Musgraves or Kasey Chambers, as it will The Chicks or Fleetwood Mac. Lucy brings a deft songwriting skill to her craft that has seen her win multiple awards; including the Youth Songwriters Award at the Australian Songwriters awards in 2017 and 2020 and the Folk/Acoustic Songwriter Award in 2018. Lucy also won the Youth Songwriters Award at the Tamworth Songwriters awards in 2019 and 2020 and took out first place in the International Songwriting Competition (ISC) winning the Teen Category in 2020 with her song 'Back Up'. Lucy is a graduate of CMAA Country Music Academy where she was mentored by Lyn Bowtell, Roger Corbett and Amber Lawrence and co-wrote a song with Ashleigh Dallas. In 2019, Lucy was was named the winner of Todays Country 94.1 Brand New Star at age 16.
Kaylah is an emerging artist within the folk/pop genre. Composing tunes as a child, she started taking music seriously in her teens. Having been a Principal Vocalist in the Victorian State Schools Spectacular in 2018, 2019 and 2020, Kaylah has been fortunate enough to perform in Hisense Arena to a live audience of 14,000 and broadcast to a national TV audience. Kaylah's love for music has seen her release her debut single, 'Are The Angels", and her follow-up single, 'Reminiscing'. Written from places of emotive drive, her songs explicitly explore the relationship between loss, love, nostalgia and reflection. She hopes her music can initiate change and touch the hearts of many. Kaylah plans to release and EP this year. Kaylah will be performing one set on Monday.
Sylvie Rigby is a young, multi-instrumentalist born into the heart of regional Victorian folk music. She spent her childhood falling asleep out the back of her family's gigs, subconsciously absorbing bits and pieces to form her own unique, haunting indie style of songwriting accompanied by various instruments including mandolin, ukulele and clawhammer style banjo. Sylvie will be performing one set on Saturday.
Rob Barratt is a brain-tickling, word-mangling comic poet, humourist and singer from the UK who combines clever word play, verse and song with satire, parody and audience
participation, covering such important topics as squid, data-driven education, his relationship with potatoes and distressed furniture but beneath the humour there lurk serious issues. In recent years Rob has appeared at folk, literature and arts festivals all over the British Isles and Australia. "This is not only clever but I think it's very funny" (Mike Harding) "Rob revels in wily wordplay & rogue rhyming but his conceits & surrealist forays into the imagination take the ruddy biscuit. Hilarious!" Adrian Mealing (UK Touring and Spooky Men's Chorale) "'Comic Poet' it says on the card. That's not the half of it. The man is a velvet tongued assassin, using charm and humour as a subtle lever to highlight life's absurdities. It's all very light and sing-along jocular – but this man is dangerously subversive and his show should be witnessed at all costs at your earliest opportunity. Bloody Funny." (Barrie Dimond of Festivals for All at Beardy Folk Festival, Shropshire, June 2022)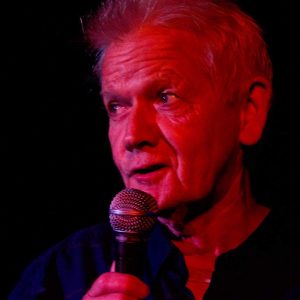 Eric Purdie has been sharing, formally and informally, at folk festivals, folk clubs and pubs for over thirty years. He has a direct performing style, which lies within the 'stand up' school of comedy. in 2020, Eric Purdie won The Port Fairy Folk Festival Pat Glover Memorial Storytelling Award. Through his humorous stories and anecdotes about his early years in Glasgow, he imparts a unique oral view of a life and culture.
Mick Coates and the Tibooburra Three will be doing a Johhny Cash show Mon night at the Maldon Hotel
Mick Coates is back with his perennial Johnny Cash show after a few years in abstentia. This time with a different line up but with the same verve and and booming bass voice. This outfit cut their teeth in the wilds of far western NSW on an outback Xmas/NYE tour in the searing summer heat of the painted desert. Not many venture to Tibooburra and Cameron Corner that time of year. Fortunately they made it back through the dust and corrugations in plenty of time to send this year's Maldon Festival out with a bang.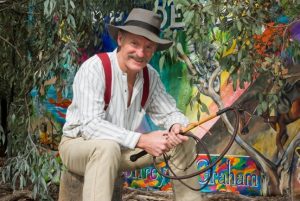 Geoffrey's forte is presenting an outstanding package of entertainment: Comedy, music, bush verse, audience involvement and theatre. 2022 marks 100 years since the passing of Henry and so it is only fitting that Geoffrey presents his Henry Lawson impersonation performance this year.
Geoffrey  presents     Henry's Alive – Geoffrey presents a dynamic look at Henry Lawson; his verse, songs, his stories, the genius of his pen and something about the bloke himself. The audience is taken into Henry's world; along with his passion, the challenges of his upbringing, his disabilities and his conflicts with alcohol, women, and the world around him.
Irish-Aussies (rogues, rebellion & religion) – What do you think of when you think of Irish…….whisky, music, religion, ratbags, fighting, illogical thinking, courage, loving, singing or all of the above? Geoffrey presents a one hour performance which might challenge a few of your thoughts on the subject. From the early days of Anglo-Saxon immigration to Australia…the Irish were here in force…mostly not by choice. At one stage there were more Irish in the population than from any other country. It's thought that over 5 million people currently in Australia have Irish blood running in their veins. That in itself is a worthwhile reason to examine a few of the links between Ireland and Australia. Geoffrey presents a performance which has comedy, pathos, music, verse and drama; all the ingredients required for a session of laid –back entertainment.
In his formative years "The Rhymer from Ryde" was mentored by such luminaries as Frank Daniel, Milton Taylor, Blue the Shearer & Denis Kevans and has now developed into the vibrant & entertaining performer you see commanding the stage today. His audiences become an integral part of his shows as he draws then into his wide range of stories sourced from his extensive repertoire of Traditional, Modern, Comedic & Original Bush Verse.
Fiona has secured her reputation as a highly gifted interpreter of Scots song. She was a finalist for Scots Singer of the Year in Scotland's prestigious Trad Music Awards. Fiona is also a Deep Coaching & Sound Practitioner and InterPlay / VocalPlay Leader. She will be offering a number of different experiences at this year's festival. See www.fionaross.com.au
InterPlay: InterPlay is an active, creative way to unlock the wisdom of the body. It is a playful practice that celebrates and creates connection and community. Through simple movement, story, sound and stillness, we explore new possibilities and learn more about ourselves and each other. Fiona has run sessions at a number of festivals, most recently at Cygnet and the National Folk Festival. Come along and experience the fun and connection of InterPlay. No previous experience required. Wear comfy clothing.
Traditional Singing Session: Fiona will be hosting a traditional singing session. All welcome.
Concert: Scots Song Concert showcasing the richness and diversity of the tradition.
Alchemy Crystal Sound Bath: Unwind and reconnect heart, mind and body as you bathe in the pure, vibrational sounds of the crystal singing bowls. What to expect:  A deep listening experience centred on a stunning array of alchemy crystal singing bowls together with other sound healing instruments such as voice, drum and chimes. A guided meditation to foster stillness, self-awareness and well-being.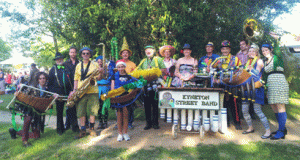 The Kyneton Street Band provides a vibrant outdoor band experience, featuring marimbas, wind, brass and percussion instruments in a unique mobile format. Led by Andy Rigby who brings his varied repertoire of Latin and African inspired music to the streets of Maldon.
The eclectic ukelectix are a crazy bunch of fun lovin' ukulele players from Central Victoria intent on bucking the system. Once they were hippies, now they're ukulele players.
Brewers Own Bush Band (Vic)
A long running Bush Dance Band (Formed in 1978)- specializing in Family Fun Bush Dances! We love to bring the English, Irish, Scottish, American and even Scandinavian traditional dances for the public to have a go at with a focus on Fun!!! We support the Maldon FF to bring this Sat. afternoon dance for folk to enjoy and will continue to do so as long as we are able!
Songwriter, multi-instrumentalist, founder of the Stratford Singer Songwriter initiative (Gippsland) and winner of the Maldon Folk Festival 2022 Minstrel award; Anita Hensen will be
performing with her trio JAM Trees, featuring members Jo, Anita, Mel (JAM). The jazzy-folk trio's three part harmonies are candy to the ear, just beautiful to listen to. Sitting up late into the night around the kitchen table laden with cheese platters, wine and music instruments you can find Anita and her band mates singing, creating heartfelt songs. In 2023, JAM Trees released their second EP "Song Platter" following their 2022 debut EP "Kitchen Table Songs" featuring popular songs 'Butterfly', 'Just Before Midnight' showcasing their 3 part harmonies beautifully. The Stratford Singer Songwriters open mic is in its twelfth year. Anita's networking has brought together singer-songwriters from all over Gippsland; creating a successful, regular event that champions original songwriting. Anita and Jo Walsh began their special friendship in the late '90s and have collaborated together singing, writing songs, and performing in theatre musicals ever since. Mel, a singer-songwriter, multi-instrumentalist and familiar performer to many folk festivals joined the duo in 2020 in between lockdowns, bringing the fresh exciting sound of violin, flute and vocal harmonies to the mix.
Margaret Crichton (Vic)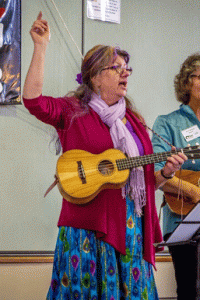 Festival Choir – Come and see the festival from the other side of the stage! Have fun learning two songs in the workshops, then strut your stuff onstage as a bona fide festival performer. No experience necessary. Shower singers welcome!
Maldon Festival Ukulele Orchestra – Whether you're a new strummer or experienced player, The Festival Ukers is for you. Participants will learn two songs or tunes on their ukes, to be performed onstage. All playing levels will be catered for and there will be a core group of players on hand to help with the teaching of various parts and techniques. Pop Up Uke Playing – Random ukulele performances between acts at the Troubadour, outside the Community Centre or in the street. Anyone with a uke would be welcome to join in with the core group of players. Uke see them here, uke see them there, uke see those ukers everywhere! Random ukulele performances around the festival.
Bush Sessions (Vic)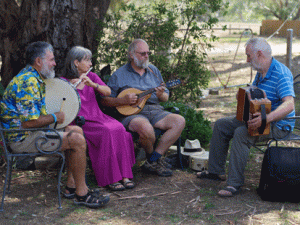 We are a group of experienced musicians who recreate the music of Australian bush gatherings from the 19th and early 20th centuries. Our music has been collected from traditional players. Men and women who made music live in the bush. Their repertoire included tunes brought from their country of origin and handed down through families; tunes learnt from friends and neighbours, as cultures blended in the bush and music learnt from broadsheets and sheet music. These are participation workshops. We provide written music (though ear players are most welcome) and play at a pace which encourages joining in. Please bring your instrument and join us to play through some great toe tapping tunes in traditional dance style.
Michael the Balloonologist (Vic)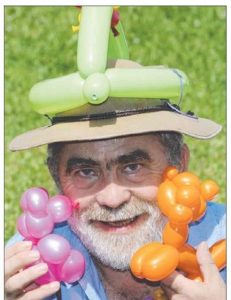 Michael the Balloonologist has been a fixture at festivals, fetes, fairs and functions for over twenty- five years. From single balloon animals to multi-balloon creations Michael manages to enthral his audience whether they are 2 or 102. Dogs, bears, flowers and fancy hats flow freely from his fingers. Come and claim a colourful creation – and yes, he does parties.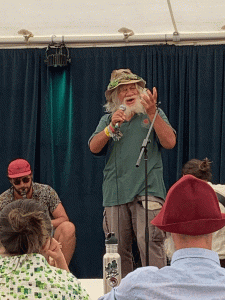 The only fair dinkum reciter of Aussie Bush Poetry who doubles as the last  Australian swagman. Everyone knows Campbell, from govt house in Darwin, right down the east coast to the Sunday market in leafy Camberwell, and every festival and market in between. Keeping the Spirit of Waltzing Matilda (carrying the swag) and mate ship policy alive. By raising Funds towards helping premature and chronically ill children via financing the Royal Flying doctors and emergency relief appeals. Verses recited are kaleidoscope of my travels and experiences, Aboriginal Dreamtime stories and tales of the Land. The poems reflect the heritage pillars of Australia. Check out The Legend of Campbell the Swaggie by Kevin McCarthy's Crocodile Country  and an interview while he was staying in Maldon during most of 2020 until after Easter 2021.
Emu Creek Bush Band and Friends – Gay Charmers and Friends (Vic)
Long time stalwarts of the Maldon Folk Festival, the Emu Creek Bush Band, will once again be providing the toe tapping opening dance of this year's festival as they have done for many years. Despite the passing of their leader Peter Ellis OAM the band he nurtured over thirty or more years will continue to provide the best of bush dancing. Bring the kids and be prepared for a fun filled evening. You won't be disappointed. The Bush Concert commences with entertainment from the band but incorporates items from the floor and so the audience end up entertaining the band!
Harpers Bizarre (Vic)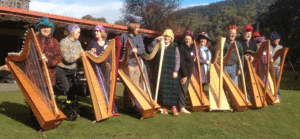 A long-time favourite of the Maldon Folk Festival, this group meets monthly to play beautiful music and of course, to share epicurean delights. Their music includes tunes from the Celtic countries as well as an exciting Latin based repertoire and individual compositions. Festive hand-crafted felt hats, and harps made from unique Australian timbers, are well known signatures of the group. Each year, in the winter months, Harpers Bizarre runs a  music camp at Cave Hill Creek Recreation Centre, near Beaufort central Victoria, promoting and encouraging interest in Harp Culture. Harp maestro Andy Rigby is the group's Musical Director and fashions many of the harps in his Workshop, just down the road in Malmsbury. Check out some of Andy's exquisite instruments at the Maldon Folk Festival 'Instrument Makers Exhibition' on Saturday and Sunday of the Festival.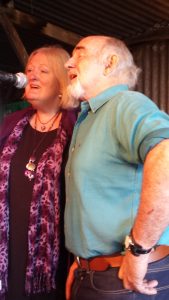 Jeanette Gillespie & Duncan Brown (Vic)
Jeanette and Duncan will lead the concert as they have in previous years, and involve other festival artists and friends. Possible participants may include any agreeable festival guests who may be "shanghaied" during the festival!
O'Shea-Ryan Irish Dancers (Vic)
The dancers come from many regions in Victoria in the southern part of Australia. They are well known at Folk Festivals and major events, presenting their Irish Dance Folk Culture which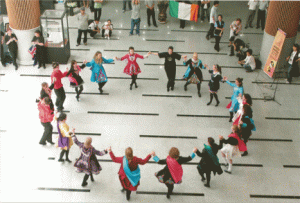 has survived for hundreds of years and has been fostered and passed down to the present generation for their enjoyment. Many of these Dancers are experienced international performers, having presented their Irish Dance Culture throughout Europe and Asia at events to which their teacher, Geraldine Ryan, is regularly invited to bring her group. Geraldine's dancers have, to date, had successful performances in thirty three different countries throughout Europe and Asia. Geraldine is a well known authority on Irish Dancing around the world, and is recognised as the senior, longest registered teacher, still actively teaching in the World…
The Britannia Morris (Vic)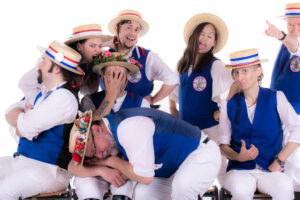 Surely you know us already? The dancers in the streets? With the wavy hankies and clashing sticks? The white uniforms and live melodeon music? The ones who have been engaging audiences at Maldon for over 20 years?
Well, if you don't know us by now, you just haven't been paying attention!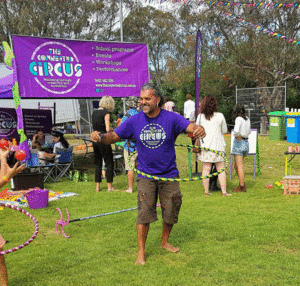 This colourful and family friendly Circus Space will be running from 11am to 4pm on Saturday and Sunday. There is a Circus Space for participants to explore a range of props with assistance from instructors. These props include Hula hoops, Pois, Spinning plates, Rolla Bollas and Flowerstix. Also in the grassy outdoor space there will also be games like Finska, Bocce and Giant Jenga. Undercover in the Rotunda there is an  Art Space for children to draw, sketch and do origami and a Games Space with all sorts of fun board games for all ages.
The Connected Circus runs their mobile entertainment space at festivals and events all over Victoria. We also facilitate a wide range of school programs and workshops in Central Victoria, helping to improve the wellbeing of children and adults using creativity and movement.