Rory Faithfield is a story-telling singer-songwriter who embodies the lyricism of his Irish heritage, the raw passion of his early Punk band days in Sydney and the clear-eyed sensibilities of life on the coast of Western Australia. Veteran Australian Music Journalist, Bruce Elder, stated, "His songs are wistful, romantic, deeply felt, beautifully crafted and sung with a voice that pours sincerity and emotion over every line and note". Rory is currently based in Dublin and working on the songs for his sixth – yet to be titled – album. A late but very welcome addition to our festival.
As a proud albino man with a big bushy white beard, Chris Dent (Albi) makes for a striking figure. With his smooth, almost angelic voice and warm gentle demeanour, he naturally captures and holds his audience's attention by just being the man he is. On stage he is joined by his wolves, Pascal Roggen and Micheal Young. This pack, with a line up including Violin, Double Bass, Guitar and rich three part vocal harmonies, come together with a massive sound to play everything from your soul-stirring ballads to your ear worming, foot stomping hoe downs.  Albi & The Wolves have explored the world together. They've toured festivals and venues throughout America, Australia and of course their home territory of New Zealand. In 2018 these three lupine compadres were excited and honoured to receive the Best Folk Artist 2018 TUI at the New Zealand Music Awards for their debut album One Eye Open!  All three musicians are powerful and compelling performers in their own right. But when they come together, they create something larger than any individual, something incredible, a must to see.
"For the strength of the pack is the wolf and the strength of the wolf is the pack"
– Rudyard Kipling
Michael Waugh's insightful tributes to friends, family and parenthood are simultaneously
deeply personal and nationally recognizable; we see our own brothers, parents, pubs, rivers, struggles and joys reflected in the faces of those characters who live large in Michael's songs. Michael is a songwriter's songwriter, a compelling live performer and an extraordinary storyteller. Among his admirers are the legendary Eric Bogle, alt. country luminary Shane Nicholson and country hitmakers The Wolfe Bros. His latest album The Weir received two Golden Guitar nominations in 2020 – Male Artist of the Year and Alt Country Album of the Year – as well as a nomination at the 2020 Victorian Music Awards. Michael won a 2022 Golden Guitar for Heritage Song of the Year for the title-track off his fourth-studio album Dirty River
Poetic lyrics, meandering melodies and captivating voice, along with a unique picking style, Khristian Mizzi really is a complete artist and is becoming renowned for his intimate performances and thoughtful songs.
Australian Folk Music Awards finalists (2021) Rich Davies & The Low Road deliver a 'foot stomping contemporary folk attack' (Mick Thomas), featuring trad-roots instrumentation, 5 part gang-vocals, and emotive narrative-driven songs delivered with the ferocity of a rock band. Drawing from Davies' Scottish heritage they combine their love of folk tradition with 60's Folk Revival influences and a healthy dose of Springsteen-meets-the-Pogues attitude into a rousing sweat-drenched symphony of wild, visceral folk'n'roll. They'll charm you with wit, banter, and heart-on-sleeve story-telling, and once you've let your guard down bring you to tears with a heart-wrenching ballad. 2021 saw Rich Davies & The Low Road showcase for Folk Alliance International, release an EP 'Live From Brunswick' with accompanying YouTube clips, and participate in Global Music Match co-presented by Sounds Australia. In 2020 Davies released a solo album 'Born in Nebraska', reimagining Bruce Springsteen's 'Born In The USA' album using the darker folk palette of 'Nebraska'. Davies' song Dirt Under My Nails has previously been recorded by The Bushwhackers and nominated for Song of the Year at the 2018 Golden Guitar Awards. The Low Road are currently recording the follow-up to first album 'Ghosts' for release in 2022.
Leroy Johnson and The Waterbag Band sing campfire songs and ballads from the heart. The soulful voice of Mutawintji's Park Ranger is
joined by mandolin, double bass, didgeridoo and harmonies for a little bit of folk, and a little bit of country, blending traditional music, with ancient and contemporary stories. Leroy Johnson is the first Aboriginal Park Manager of Mutawintji. He is a Barkindji/Malyangaapa man with strong connections to the lower Baaka (Darling) communities in far western NSW. Over the past twenty years Leroy has been performing and writing music about self-determination, connection to country, culture and family. Leroy is joined by a band of Broken Hill musicians; bringing a little bit of folk and a little of country to his songs about deep love for country and the stories it holds.
Beverly Smith, Kellie Allen, and Pete Peterson, award-winning players of Old-Time Music, have combined their talents to form Smith Allen
Peterson, aka SAP. Beverly (fiddle, guitar, mandolin), Kellie (guitar, bass, mandolin) Pete (banjo, guitar, autoharp). This old-time trio has it all: hot fiddling and banjo-picking, driving guitar backup, with thrilling vocal harmonies on old songs and on new songs, too! Beverly writes compelling songs. SAP sings them in three-part harmony. Also: Carter Family songs, Charlie Poole songs (Pete owns one of Charlie Poole's banjos!), and favourite and obscure early country and old-time songs. Instrumental chops? They have them, and ribbons to prove it. Icing on the cake? The trio will be joined on some numbers by Victoria's best, Ian Alexander, who works clawhammer banjo magic. This old-time supergroup will rock your world! Not only can they play, but they can also teach. Workshops, lessons, demonstrations, you name it. They love showing other how to play, sing, and make music together. Their motto is "spread the joy!"
Their reputation as outstanding entertainers has led them to perform at many local and international festivals, including in New York, Scotland, France at the Festival Interceltique, the largest Celtic festival in the world many times, New Zealand, Sydney, Melbourne, Launceston Tasmania, National Celtic Festival, Port Fairy Folk Festival, Queenscliff Music Festival, Big Blues Day Out, Perth International Arts Festival, Brunswick Music Festival and many more. With a mixture of traditional Scottish and Irish music and modern self penned Celtic rock the band represents the best of new age folk music.
He was raised in Adelaide. 'Accidentally' born in Benalla, Victoria. Arts degree from Adelaide Uni. Lifelong Norwood and Crows fan.  Played in four Adelaide bands then moved to Melbourne in 1979 to explore the band scene. Met the Coodabeen Champions in 1983. Still a member, 36 years on. Wrote I Made a 100 in the Backyard at Mum's in 1985. 23 Tamworth Festivals, a dozen Port Fairy Festivals, dozens of Gympie Musters, Maldon Festivals, Canberra fests etc. A few Tamworth gongs, Victorian Country Music gongs and two ARIA nominations. Wrote That's The Thing About Football in 1994. Double platinum album for Aussie Christmas with Bucko & Champs. Played at 3 VFL-AFL grand finals and several one-day cricket finals. The artist is still trying to work out what it is he does. In 2022 Greg was awarded Medal of the Order of Australia (OAM) for services to the performing arts. Congratulations and well done.
Return To The Sixties Folk Club
Greg Champion and Khristian Mizzi team up to relive the most loved folk songs of the Sixties-Seventies. Their 'Return To The Sixties Folk Club' show takes us on a journey back through the classics of the era: exploring everyone's affection for the works of Jim Croce, Cat Stevens, Don Mclean, Joni, Jackson Browne, Neil Young and of course Bob. Khristian Mizzi's voice, songwriting and impact is exploding on the acoustic music scene.  Greg Champion is part of the folk furniture at Port Fairy and all over.
Enda has been a Maldon favourite since the 90's – New Songs every visit, Builder's Apprentice on Hay Bale Walls, occasional MC, Roddy Read award winner and Veteran of Tarrangower (The Main Stage AND the Women's' Prison Stage!). We're not sure if he's got a get out of jail card or he's on bale but he's on something with puns like that. Go see him.
2022 and 2021 CMAA 'Golden Guitars', Australian Folk Music and Music Victoria Award winners, The Weeping Willows (Laura Coates and Andrew Wrigglesworth) are a couple of old souls, steeped in Bluegrass tradition and draped in Gothic Americana imagery.  They regale their audiences with stories of sunshine and romance, God and The Devil, murder and decay.  Real music. 2017-2021 saw The Weeping Willows nominated for 10 x CMAA 'Golden Guitar' awards, 4 x Country Music Channel (CMC) awards, 2 x Australian Folk Music Awards (AFMAs), Live Act of the Year (Country) in the National Live Music Awards (NLMAs), performing at AmericanaFest (USA), Folk Alliance International (USA), Maverick Festival (UK), Port Fairy Folk Festival, Queenscliff Music Festival, Out On The Weekend and the Australian Americana Music Honours.  In recent years they have supported Lukas Nelson & POTR (USA), Hayes Carll (USA), Iris DeMent (USA), Eilen Jewell (USA) and Willie Watson (USA) and completed national and international tours in support of their sophomore album, Before Darkness Comes A-Callin', which received four-star reviews in Rolling Stone, The Australian and The Music.  A Weeping Willows performance, whether live on location or caught on tape will always delight.
Margaret & Bob Fagan are two of Australia's most respected folk musicians with a long involvement in the scene, both as a duo and as members of their family band The Fagans. Their unmatched repertoire has its roots in the Anglo-Irish-Australian tradition, and audiences love their striking harmonies and political integrity. Their songs move from themes of social and environmental justice to traditional ballads and contemporary stories, and they love it when folks join in on the choruses.  Be transported by Margaret's beautiful voice and Bob's superb finger-picked guitar. They hail from the Blue Mountains and are delighted to be returning to Maldon.
Kaurna Cronin is a unique multi-award winning folk-rock artist who tours globally performing his swag of deep and inventive songs. He is a captivating entertainer and story-teller who is constantly evolving his sound throughout the folk genre. Recently nominated for 'Best Solo Artist' at The Australian Folk Music Awards, his recent album spotlights his artistry in combing imaginative soundscapes with thought provoking lyrics intertwined with timeless sentiment and rich imagery. With seven studio albums under his belt, Kaurna's moving performances and unique folk blend have him regarded as an artist not to be missed.
Multi award-winning songwriter Loren Kate, has earned the reputation as an utterly captivating performer and brilliant storyteller. 'Nobody Knows' is the title of Loren's new album which was released this year. The album was recorded and produced by acclaimed songwriter and producer, Shane Nicholson, and is a timeless collection of stunning new songs. Raw emotion is front and centre of this delicately stunning album. Wearing intimate stories and challenging life experiences on her sleeve, Loren once again bares her heart and soul for the world to hear.  Loren Kate's music is undeniably beautiful, she writes with a depth and passion that is rare and inspiring. Don't miss the opportunity to see Loren Kate live at Maldon Folk Festival this year!
Saoirse have firmly established themselves as one of Australia's leading Celtic/Folk bands, having just released their fourth album, Encore!
Saoirse entertain with soaring harmonies, beautiful ballads sung in English and Irish, original material and even a few jigs and reels! A SAOIRSE performance will engage and delight your inner Celt!
Sadie is a modern-day storyteller whose folk-indie-pop music takes audiences on a journey seen through the eyes of a down-to-earth Melbourne teenager. With a comprehensive string of song-writing, vocal and stage awards, over 20 festival appearances and a diploma in classical violin, Sadie Mustoe launched her second EP 'Up Left & Turn' at Maldon Folk Festival, 2018 and has released her latest single 'More' in 2020. Sadie is a passionate song-writer and a multi-instrumentalist playing violin, guitar, piano and ukulele. She has an eclectic range of influences through pop, indie, classical, folk and rock, as well as a deep care for all things environmental, which is reflected through her approach to music. "Sadie effortlessly pairs stunning lyricism with an emotive soundscape and takes your breath away", Thando. "I was blown away by Sadie's incredible voice, dedication to her craft and her star quality. She is super talented and has that something special that is rare and hard to come by", Adalita.
Festival sweethearts Sarah & Silas play Folk/Roots music with a dash of world flavour, sprinkled with a sweet romantic tone. Their love, skill & connection shine through exciting duelling fiddles & sweet vocal harmonies which dance to the strum of a uke & the stomp of a drum. Over the course of the pandemic, this duo kept the spirits of Australians high by writing catchy, uplifting songs defining the times. Their song 'Lockdown' hit number 3 on the AMRAP Metro charts in 2021. Launching their brand new album 'Gold Standard,' don't miss their duo festival show at this year's Maldon Folk Festival.
Crackling with wit and infectious melody – Melbourne's smouldering, cool, inner-urban contemporary folk savant, Matt Glass is a craftsman: writer, performer, multi-instrumentalist, and producer. Sparkling with hooky exuberance in his new EP, Slow Fireworks, a mission statement of Glass's inner-city, pop-folk sensibility, his songs are unique in their impressionistic style – warm-hearted and infectiously catchy snapshots of time, place, and feeling. Glass explores the complex landscape of contemporary relationships – writing from personal experiences as a father, son, lover and friend. Often brutally honest, non-romanticised little fragments of modern Melbourne life, Glass draws in the listener with strong urban-Australian, chill-folk mastery. Having won the prestigious Roddy Read Songwriting Award at the Maldon Folk Festival in 2019, Glass is proud to launch his new EP. Undoubtedly, this bright, sensual, talented new folk star will win hearts and
minds along the way.
Melbourne sister duo Charm of Finches have grown up performing on Australian folk festival stages. Songs awash with their signature seamless blood harmonies, nostalgic yet fresh, haunting, but at the same time serene, traverse melancholy and wonder in equal measure. Awarded the 2021 Music Victoria Best Folk Act and 2021 Australian Folk Music Awards Youth Act of the Year, the sisters Mabel and Ivy Windred-Wornes, recently returned from a four-month UK/European tour promoting their acclaimed third full length album "Wonderful Oblivion"."Wonderful Oblivion is a moving work, dressing up the shared experiences of the everyday with music that tugs at the heart and stirs the imagination." The Australian
Led by Maldon Minstrel winning songwriter Ewan Cloonan, The Humbuckin' Pickups draw from the experiences of four musicians who cut their teeth in vastly different musical traditions. Winners of the 2021 Troubadour Foundation Award, The Humbuckin' Pickups craft a sound that has been perhaps best described as "Roots Drenched Folk." Equally at home with a delicately embellished, heart-breaking ballad – or a hard-driving bluegrass inspired song, The 'Humbuckers' will draw you in with their love of storytelling through music, their humour and their captivating songs
Shortlisted for Scots Singer of the Year in the prestigious Scots Trad Music Awards (2019), Fiona Ross has secured her reputation as a highly gifted interpreter of Scots song. Her honest singing style, grounded delivery and extensive repertoire showcase the richness of the Scots song tradition. Guitarist, producer, studio engineer, composer and ARIA Award winner, Shane O'Mara is one of Australia's most versatile musicians. He has extensive recording and touring experience with many diverse artists including Paul Kelly, Chris Wilson and Tim Rogers. As a duo, these two highly accomplished artists combine to present a heartfelt set of Scottish songs and tunes that is both steeped in tradition and imbued with contemporary flair.
The critically acclaimed singer-songwriter was born in Dublin city, Ireland, in the seventies. Picking up guitar in his early teens, helped him navigate 'the streets', something he now reflects on as having provided him with a wealth of material for songs and stories that he continues to draw from. Gallie's music is captivating from the get-go; his performance can move from a lonesome whistling entrance sounding like a miner in the Klondike, through to a wild folk guitar crescendo, and melodic baritone voice giving the grittiest performance of his life. Gallie's 20-year musical career has seen him support an impressive line-up of international acts— Damien Rice, Lisa Hannigan, KT Tunstall, Glen Tilbrook, Squeeze, Newton Faulkner, Glen Hansard and The Frames— he has shared the stage with eminent acts such as Santana, Chris Isaak and Jimmy Cliff. Gallie has lived the troubadour lifestyle, troubadour in the true sense of the word. For over 15 years he has travelled the world playing every type of show imaginable, from busking on the streets of Paris to a 1000 seat sold out show with a 46-piece orchestra in Caxias Du Sol in Southern Brazil. Having now lived in Australia for 11 years he has finally put enough roots down, to record his songs. He has made two albums and two EP's, but only released one – The Occoquan River – He is a perfectionist.
Hannah Schmidli is a 21-year-old independent singer-songwriter based in the Yarra Ranges outside Melbourne. Emerging from the local acoustic and folk music scenes, she has evolved throughout her teenage years, carving a niche in what can best be described as an acoustic indie/folk/pop/jazz fusion.
Hannah is a dynamic songwriter who displays a writing maturity beyond her years. Her performances are engaging and thoroughly entertaining, weaving (evocative) images with her lyrics, stories and music. Hannah already has an impressive list of festival and venue performances and has written, recorded, co-produced and released two albums and an EP. Between 2018 and 2020, Hannah featured semi-regularly at the super cool Paris Cat venue in Melbourne, accompanied by her band, "The Someones". Hannah's performances were smooth, intimate, vulnerable, and humorous, much to the appreciation of the wonderfully attentive crowd. Over the last twelve months, Hannah's most notable performances have been opening for other wonderful and respected artists. These include The Charm of Finches at the Lyre Room (Burrinja Cultural Centre, Upwey), Khristian Mizzi and Gracie Sinclair (Folk Bitch Trio) at the New Melbourne Folk Club (Brunswick Ballroom) and The Timothy Wolf Duo at Live @ St Andrews. The opportunity to open for such high-calibre artists is an absolute honour and speaks to the regard Hannah has amongst fellow performers and promoters. Hannah has one solo set on Sunday.
Michael J Coates (a Maldon local) & co present new gritty songs penned by themselves and various other legendary pals along with a dash of Johnny Cash's American Recordings catalogue and Bob Wills for emotional relief. Songs to make a barmaid weep.
The Jam Tarts Trio and band have been bringing their own unique style to the music scene for over 10 years. Their diversity of songs from doo wop to folk, from pop to just about anything in between. Beautiful harmonies, quirky arrangements and entertaining delivery, they will have you singing and toe tapping in spite of yourself.
Born of campfires and beach houses, these four friends came together to sing and play the music that they loved. Whilst rhythm and harmony pour from the stage, storytelling and good wine are at the heart of what Tinman are all about. From festival stages to living rooms, their live show draws you in with seductive harmonies and their many stringed instruments, both curious and delightful. Over the course of a Tinman show you may feel the need to sing, even if you don't know the words. Or just want to watch the melodies disappear into cool night air. In 2018 Tinman recorded their debut EP over a weekend in a beach house along the Victorian surf coast. Since then, the four have travelled and played their music to countless audiences and graced radio waves across Australia. Come alongside these story-tellers and magic weavers and be transported for a while.
Described by the Saltwater Music Festival as a Glasgow comedian with a Gandhi soul, Eric Purdie is the winner of the Port Fairy Folk 2020 Festival Pat Glover Storytelling Award. He is wonderfully entertaining storyteller, comedian, unaccompanied singer and poet. Eric's stories of growing up in Glasgow, working in the shipyards and other tales of every day human experiences, are from the heart, imbued with a sense of wonder and true humour. Eric has been performing regularly as a stand-up comedian, singer, poet and storyteller for a number of years at folk festivals, folk clubs and pubs.
Crocodile Country perform music from Australia's Crocodile Coast … contemporary home-grown Territory music with Bite!
A swag Croc Country originals include "She's Me Troopy", "Arafura Queen", "Wurrji", "Darwin Town", "Katherine", the "Legend of Campbell the Swaggie", "Our Northern Territory","Our Aussie Country Sweetheart", "Women of Sensible Dimensions", and the "Build-Up Blues".  The Crocs also play popular Territory "classics" penned by the likes of Neil Murray, Mark A Hunter, Kathy Mills, the Pigram Brothers, Troy Cassar-Daley, Leah Flanagan, and Dave Garnham!
Crocodile Country is Kevin McCarthy (vocals, guitar), Richard Grace (vocals, double base), Lauris Hedenig (vocals, accordion, guitar), and Lou Elliott (vocals, fiddle).
So don't miss this uplifting musical journey through Australia's last frontier!
Geoff McArthur (Ballarat) and Kevin McCarthy (Darwin) are songwriters and long-time, long-distance collaborators who are drawn to those unusual yet extraordinary Aussie characters – the one's you don't meet every day.  So come along and have a listen in to their original songs and stories that bring to life the likes of …  the last man hung in Australia Ronald Ryan, Territory call-girl, doctor & property magnate Suzy Kruhse, the only independent witness to the Eureka battle of 1854 Agnes Franks, tight-arse Top Springs pub owner Thelma Hawkes, Irish and Australian sports legend Tahdg Kennelly, Australia's last swaggie Campbell the Swaggie, the Darwin rubbish warrior Trevor Jenkins, and the Aussie digger drawn into the 1916 Irish Uprising Mick McHugh.
Whimsical Tricycle are life partners Kieran Butler (guitar, vocals) and Michelle Wilson (violin, vocals) who toured extensively to critical acclaim in the 2000's. After a long hiatus they have returned to the folk festival circuit over the past couple of years, delighting audiences with their unique mix of humour, original songs and story telling. "Moving, humorous, immensely entertaining… superbly crafted songs" Independent Weekly; "Natural Australian humour and honesty" Adelaide Advertiser; "One of the most uplifting musical experiences on the Fringe" Edinburgh Evening News
Musike D' Jour (Vic)
Musike D' Jour love strumming, singing, laughing and performing together and sharing the fun with whoever will
listen. Feet won't stop tapping and the smile won't leave your face with music that includes old style blues with a bouncy mix of Bluegrass/Jug and Jazz. Not only Ukuleles! Our sound explodes with Ukes, Bass, Banjo, Guitar, and Washboard; plus Sax, Kazoo, Harp and Jug! A mix of ages from youngens to grey heads, Musike D' Jour hits the streets to delight both young and old!
A joyful and sophisticated trio of artful, intrepid travellers of the Steampunk Imaginarium who whimsically roam the streets educating passers-by about all things Steampunk, whilst also engaging them in splendid conversation, wonderous photo imagery, much laughter and cups of tea. Their magnificent vintage pram is filled with splendid goodies and props for people to wear as they pose with glee and frivolity for photos taken by their friends – just for fun!
The Victorian Folk Music Club's Billabong Band is the longest continuously operating bush band in Australia. With its emphasis on traditional Australian (European) folk song, dance & poetry it strives to keep alive the traditions that are somewhat overshadowed by the American & Scots/Irish traditions. It performs regularly around Melbourne, country towns and interstate at festivals, dances and private functions. Don's Empty Chair! – presented by the Billabong Band, a memorial musical presentation of traditional Australian Bush music. Each song will be preceded by a brief look at significant contemporary to the time events, cultural factors, language, idioms, and attitudes, and the origins and development of the song. In memory of the Victorian Folk Music Club's amateur music historian and researcher, the late Don Gingrich. We lost Don to an aggressive illness last July, hence the empty chair. Don hoped to present a similar program to this presentation in 2020 before COVID killed the festival.
Brewers Own Bush Band (Vic)
A long running Bush Dance Band (Formed in 1978)- specializing in Family Fun Bush Dances! We love to bring the English, Irish, Scottish, American and even Scandinavian traditional dances for the public to have a go at with a focus on Fun!!! We support the Maldon FF to bring this Sat. afternoon dance for folk to enjoy and will continue to do so as long as we are able!
Bush Sessions (Vic)
Experienced musicians who recreate the music of Australian bush gatherings from the 19th and early
20th centuries. We offer participation workshops exploring the history and style of the music and informal pub and street sessions where you get to play along with the tunes you have learnt. Workshop 1:- Gervasoni family, Andy Rodoni; Workshop 2:- Harry McQueen, Tom Walsh Local dances were an integral part of the social life of the Bush during the 19th and into the 20th century. The repertoire of traditional players included tunes brought from their country of origin and handed down through families; tunes learnt from friends and neighbours, as cultures blended in the bush. Newer tunes were taken from broadsheets and from sheet music; wherever a friendly tune could be found. These workshops are both an opportunity to listen as well as to play along. You will hear some background on the music and its players as we play music collected from locals Harry McQueen of Castlemaine, Tom Walsh of Trentham, Andy Rodoni of Franklinford and the Gervasoni family of Yandoit. Written music provided and the pace will be moderate. Workshop 3 – Revisit the tunes learnt in workshop 1 and 2, tunes collected from traditional players in the area around Maldon.
Grace Ethel Martyr: Maldon's Forgotten Wartime Poet (Vic)
A special performance telling her story,  sharing her poetry, celebrating her songs and reflecting and remembering her friends lost to the ravages of war. This play is written and presented by Maldon local, Richard 'Skreitch' Leach and features performances by local Maldon young people.
The only fair dinkum reciter of Aussie Bush Poetry who doubles as the last  Australian swagman. Everyone knows Campbell, from govt house in Darwin, right down the east coast to the Sunday market in leafy Camberwell, and every festival and market in between. Keeping the Spirit of Waltzing Matilda (carrying the swag) and mate ship policy alive. By raising Funds towards helping premature and chronically ill children via financing the Royal Flying doctors and emergency relief appeals. Verses recited are kaleidoscope of my travels and experiences, Aboriginal Dreamtime stories and tales of the Land. The poems reflect the heritage pillars of Australia. Check out The Legend of Campbell the Swaggie by Kevin McCarthy's Crocodile Country  and an interview while he was staying in Maldon during most of 2020 until after Easter 2021.
Darling Buds of Maldon (Vic)
Four young local hopefuls. A rocking little combo based around the song writing skills of guitarist Jimmy Dowling, plus rockabilly stalwart Keveen on lead a guitar. and crowd control. All are steeped in rock & roll, ska and blue beat, honky tonk and country blues, with a smattering of sixties pop and folk. Miss them at your peril. Otherwise your life will not be complete. Toe tapping, hip swinging, arm swaying FUN!
Emu Creek Bush Band and Friends – Gay Charmers and Friends (Vic)
Long time stalwarts of the Maldon Folk Festival, the Emu Creek Bush Band, will once again be providing the toe tapping opening dance of this year's festival  as they have done for many years. Despite the passing of their leader Peter Ellis OAM the band he nurtured over thirty or more years will continue to provide the best of bush dancing. Bring the kids and be prepared for a fun filled evening. You won't be disappointed. The Bush
Concert commences with entertainment from the band, but incorporates items from the floor and so the audience end up entertaining the band!
Gospel in the Maine (Vic)
Gospel in the Maine is a pop-up choir led by Angela Mitten in Castlemaine. Gospel in the Maine repertoire ranges from rousing, upbeat gospel songs to deeply moving spirituals. As the name of the choir suggests, there is an emphasis on gospel songs from the African-American tradition with a sprinkling of other jazzy, bluesy or soulful songs. Ange is based in Central Victoria and has led community singing in Bendigo, Castlemaine, Chewton and Newstead. Ange is a warm, playful and inclusive community singing leader who enjoys making singing harmonies fun and accessible.
Harpers Bizarre (Vic)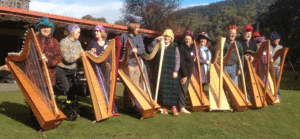 A long-time favourite of the Maldon Folk Festival, this group meets monthly to play beautiful music and of course, to share epicurean delights. Their music includes tunes from the Celtic countries as well as an exciting Latin based repertoire and individual compositions. Festive hand-crafted felt hats, and harps made from unique Australian timbers, are well known signatures of the group. Each year, in the winter months, Harpers Bizarre runs a  music camp at Cave Hill Creek Recreation Centre, near Beaufort central Victoria, promoting and encouraging interest in Harp Culture. Harp maestro Andy Rigby is the group's Musical Director and fashions many of the harps in his Workshop, just down the road in Malmsbury. Check out some of Andy's exquisite instruments at the Maldon Folk Festival 'Instrument Makers Exhibition' on Saturday and Sunday of the Festival.
Jeanette Gillespie & Duncan Brown (Vic)
Jeanette and Duncan will lead the concert as they have in previous years, and involve other festival artists and friends. Possible participants may include any agreeable festival guests who may be "shanghaied" during the festival!
Freya and Tom McGowan are a daughter and dad duo from Ballarat, Victoria.  Freya has been singing since she could string two words together and the pair have been performing live since Freya was six. Their influences are on the folk/country side and include Dolly Parton, Patsy Cline, Joni Mitchell & others. Freya and Tom have performed live to air on radio, featured on podcasts and have had a busy 2022 with gigs throughout Victoria including Cresfest and Clunes Book Town.
Lorraine McCrimmon (Vic)
Lorraine is a performance poet of several years , presenting both contemporary and traditional poems , some reflective , some humorous, she has won 2 reciting awards and has performed at National , Kangaroo Valley , Illawarra and Cobargo festivals
Margaret Crichton: The festival choir (Vic)
The festival choir is your chance to be a part of the festival, perform onstage and experience the joy of creating harmony with others, something we all missed out on in 2020. No experience or music reading is needed, just come along and raise your voice in song.
Marty Mulholland (Vic)
It's been quite a few years now since we were last able to see Marty on stage reciting some of his unique Australian bush ballads. The Teller of Tales from Tarrengower, (Martin Mulholland), a Maldon local returns this year to the Maldon Folk Festival and will be able to offer us a blend of verse penned by some of this countries finer lyricists as well as his own original compositions. Martin is looking forward to reciting his poems and being on stage alongside some of Australia's quality poets and storytellers. He also looks forward to discovering new up and coming poets similar to others who have made an impression during previous Maldon Folk Festivals.
Raging Bull – Bush Poet (Vic)
Noel Bull aka 'The Raging Bull' named because of his antics on stage,  performs humorous and serious bush poetry. He is a lovable larrikin who has lots of tales, associated with working in the outback in his younger days, to share with you.
Rhymer from Ryde (NSW)
The "Rhymer from Ryde" has been hanging around the Bush Poetry scene since Legend Frank Daniel introduced him on stage by that moniker in the late 1990's. In his formative years he was mentored by such luminaries as Milton Taylor, "Blue the Shearer", Terry Regan & Denis Kevans and has now developed into the vibrant and entertaining performer you see commanding the stage today. He's very much a 'live-wire' sort of character with a quick wit and large repertoire of rhymes including Comedy, Traditional, Contemporary & Original Verse.
Geoffrey's forte is presenting an outstanding package of entertainment: Comedy, music, bush verse,
audience involvement and theatre. 2022 marks 100 years since the passing of Henry and so it is only fitting that Geoffrey presents his Henry Lawson impersonation performance this year.
"Henry's Alive" – Geoffrey presents a dynamic look at his verse, his songs, his stories, the genius of his pen and something about the bloke himself. The audience is taken into Henry's world; along with his passion,  the challenges of his upbringing, his disabilities and his conflicts  with alcohol, women and the world around him.
"As the Crow flies" – As the Crow flies is one of those great Aussie will expressions…'don't beat around the bush, mate, and how far is it as the crow flies'? This performance is as Australian as the water bag, billy tea, Ned Kelly, wattle blossoms, Eureka, shearers, Dad and Dave, Sunday roast and cricket.The content could range from 'Banjo' to CJ Dennis; drovers to bull-dust; bushrangers to battlers, romance to the Outback; larrikins to legends.
O'Shea-Ryan Irish Dancers (Vic)
The dancers come from many regions in Victoria in the southern part of Australia. They are well known at Folk Festivals and major events, presenting their Irish Dance Folk Culture which has survived for hundreds of years and has been fostered and passed down to the present generation for their enjoyment. Many of these Dancers are experienced international performers, having presented their Irish Dance Culture throughout Europe and Asia at events to which their teacher, Geraldine Ryan, is regularly invited to bring her group. Geraldine's dancers have, to date, had successful performances in thirty three different countries throughout Europe and Asia. Geraldine is a well known authority on Irish Dancing around the world, and is recognised as the senior, longest registered teacher, still actively teaching in the World…
Michael the Balloonologist (Vic)
Michael the Balloonologist has been a fixture at festivals, fetes, fairs and functions for over twenty years. From single balloon animals to multi-balloon creations Michael manages to enthral his audience whether they are 2 or 102. Dogs, bears, flowers and fancy hats flow freely from his fingers.
Come and claim a colourful creation – and yes, he does parties.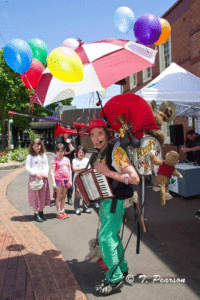 Rudy carries a drum on is back with Macadamia, or Macca, the monkey beating the drum, Pistachio, or Archie, a baby gorilla playing the tambourine, Nutmeg the Monkey sitting on a swing under the drum, and Mr. P Nut, an adult gorilla, sitting on top of the drum playing the cymbals. To complete the picture he wears a large umbrella over the top, a piano accordion over which he plays a harmonica, guitar, mandolin, fiddle, trombone, and didgeridoo, depending on what song he's singing. At night LED's light up the whole rig to welcome audiences to join in. Rudy will only be with us on Saturday so be sure to catch up with him while he's here.
The Britannia Morris (Vic)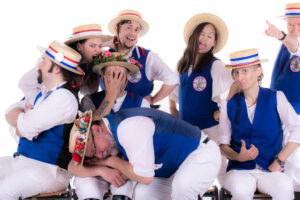 The Britannia Morris (and now they have women too!) have delighted punters in the streets of Maldon for over 15 years now, so if you don't know what to expect, then you have not been paying attention. Performing traditional dances from the Cotswolds of England, they will add a little colour and excitement to your day.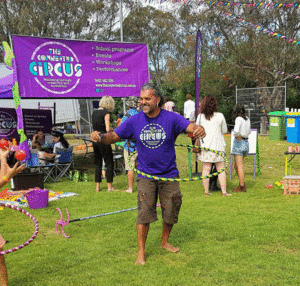 This colourful and family friendly Circus Space will be running from 11am to 4pm on Saturday and Sunday. There is a Circus Space for participants to explore a range of props with assistance from instructors. These props include Hula hoops, Pois, Spinning plates, Rolla Bollas and Flowerstix. Also in the grassy outdoor space there will also be games like Finska, Bocce and Giant Jenga. Undercover in the Rotunda there is an  Art Space for children to draw, sketch and do origami and a Games Space with all sorts of fun board games for all ages.
The Connected Circus runs their mobile entertainment space at festivals and events all over Victoria. We also facilitate a wide range of school programs and workshops in Central Victoria, helping to improve the wellbeing of children and adults using creativity and movement.
Castlemaine Steiner School orchestra
A group of students from classes 7 and 8 at the Steiner school in Castlemaine who get together at lunchtime to extend their performance and repertoire skills. We love performing in a variety of different locations whether it's a formal setting or an outdoor market.
The 
Divine Divas Show Choir
is a nationally renowned choir based in Sunbury, Melbourne.  Synonymous with beautiful vocals, gorgeous harmonic sounds and entertaining performances, the Divine Divas choir create an awe-inspiring, inspirational sound, with the power to grip audiences, by creating "goose-bump" moments. Formed in 2006 by Artistic Director Mr Adam Przewlocki, the Divine Divas is a multi award winning choir with a diverse range of music from traditional folk to contemporary. The DIVINE DIVAS have won many awards at the national level, winning the prestigious Australian Choral Challenge in Canberra, as well as becoming Semi-finalists on Australia's Got Talent.
Rainbow Voices Community Choir 
is based in Kyneton, Central Victoria, and is the Macedon Ranges' first-ever LGBTQIA+ and Allies
Community Choir! A very new choir, Rainbow Voices was formed in 2021, by Artistic Director Mr Adam Przewlocki, during the height of lockdowns and consequently was started via zoom, only beginning 'in person' rehearsals in February 2022.
Within a very short time, RVCC became the talk of the region, performing at Chill-out in Daylesford, the Bendigo Elvis Exhibition opening, collaboration with the Melbourne Rainbow Band, and opening at a performance given by Judy Small, to name a few.
The boys of Knot o' The Gate have been performing together for over 10 years. Traditional and contemporary songs all with a Celtic flavour.
Posted on their facebook page 18th Oct 2022:
"It is with heavy hearts that we advise of the passing of our dear friend and band member Terry McCormick.
For the many journeys and fond memories, we will be forever grateful we had you there. We have lost a special mate indeed.
Our love goes out to his family near and far, and his many friends.
Rest in peace Tezz.
Till we meet again…"